Electric Wire Rope Hoist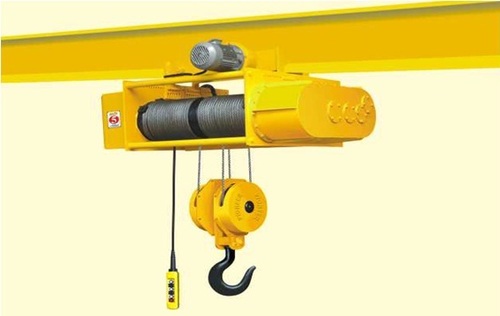 Electric Wire Rope Hoist
Price And Quantity
Product Specifications
Yellow

For Industrial & Construction Use
Electric

120-440 Volt (v)
Product Description
We offer optimal quality Electric Wire Rope Hoists, which are used for lifting and transporting the heavy loads. Available in assorted models with uniqueness, these have been fabricated by using the breaks, ms sheets, I beam, motors etc. Applicable in engineering and other sectors, these assist in reducing the physical task of workforce. Offered products are highly durable and are simple to operate. These Electric Wire Rope Hoists are strong, sturdy and corrosion resistant products, which can efficiently lift and transport heavy weights, without difficulty.

Striking Features of Electric Wire Rope Hoist:

Offered gear boxes are single and spiral.
Come with squirrel cage crane induction motors.
Control Panels are inserted, no trouble of fittings.
Transformers and fuses can be easily replaced via the roller type snap procedure.
Trolleys are adaptable, based on I-beam sizing, which is one of the raw materials utilized for manufacturing.
Assist in lessening the losses, come with enhanced functional efficiency.
Gears inserted in these hoists ensure a safe and straight operation, prorper handling of heat.
Limit gauges are offered to examine the machined parts.
The high-speed rotational parts are provisioned with the anti-frictional supports or bearings.
Easily accessible parts, which come with effortless maintenance.
Review processes are adopted to ensure the functional efficiency of Electric Wire Rope Hoist.
Also accessible with hand-operated type of gear and trolleys.
Salient Features :
Gear Boxes : MS Fabricated Housing Triple/Single Helical Splash Lubricated CI/Quadruple Stage Reduction Bale/Roller Bearing Mounting Crane.
Drum: MS Seamless Pipe made up with plate single grooved fine device with guide nut for comely laying of wire rope.
Control Panel: Builders step down Transformers, fittings, Transformers H.R.C. fuses, which are provided in the Control Panel. The limit switches of snap action are provided in the main Hoisting.
Trolley : Accessible in geared manual variety, motorized, adaptable as per i beam sizing.
Technical Data for Wire Rope Hoist

Below mentioned specification are subject to change without any prior intimation for the betterment of the product ( dated March 2017)


Description

Units

0.5 Ton

1 Ton

2 Ton

3 Ton

Lift

Mtrs.

6

9

12

6

9

12

6

9

12

6

9

12

Length (L)

MM

960

1200

1460

1035

1235

1500

1035

1245

1550

1035

1250

1600

Breadth (B)

MM

615

650

660

885

Height (H)

MM

890

910

980

1075

Rope Falls

No.

4

4

4

4

Hoist Motor

H.P. (KW)

1.0 (0.74)

1.5 (1.11)

2 (1.48)

3 (2.2)

3 (2.2)

5 (3.7)

5 (3.7)

7.5 (5.55)

Trolley Motor

H.P. (KW)

0.25 (0.18)

0.5 (0.37)

0.5 (0.37)

0.75 (0.55)

Hoist Speed

MTRS./MIN.

4

4

4

4

Trolley Speed

MTRS./MIN.

16

16

16

16

Rope Size

MM

8

8

8

10
Description

Units

5 Ton

7.5 Ton

10 Ton

15 Ton

20 Ton

Lift

Mtrs.

6

9

12

6

9

12

6

9

6

9

6

9

Length (L)

MM

1150

1260

1330

1275

1410

1625

1345

1500

1750

1850

1950

2000

Breadth (B)

MM

1025

1105

1230

1700

2000

Height (H)

MM

1150

1275

1400

1475

1600

Rope Falls

No.

4

4

4

4

4

Hoist Motor

H.P. (KW)

7.5 (5.55)

10 (7.4)

10 (7.4)

15 (11.1)

15 (11.1)

20 (14.8)

25 (18.5)

Trolley Motor

H.P. (KW)

1 (0.74)

1.5 (1.11)

1.5 (1.11)

2 (1.48)

3 (2.2)

Hoist Speed

MTRS./MIN.

4

3

3

3

3

Trolley Speed

MTRS./MIN.

16

14

12

12

12

Rope Size

MM

12

14

16

20

25